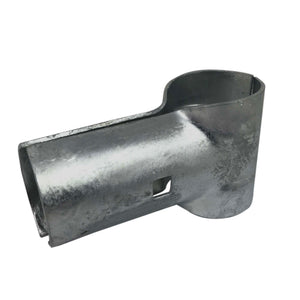 Chain link fence end rail clamps, also called gate brace clamps or gate "T"s, are used in a variety of residential, commercial, and industrial fencing applications. Simply put, end rail clamps secure two pieces of fence tubing or pipe at a right angle, forming a "T". 
Two-piece fence end rail clamps 'sandwich' the pipe and a single nut and bolt (included) is installed to clamp the tubing in place with friction. 
Chain link fence end rail clamps are used to install mid rails and bottom rails on fences. You will also find them used on backstops, sideline kits, tennis courts, dog kennels, greenhouse frames, car ports and many other structures made from round tubing and pipe.