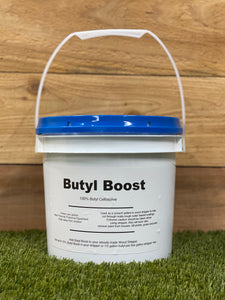 100% Butyl Cellosolve- Boosts Wood Strippers to remove water based stains and paints. Our go to Booster for those tough jobs with water based coatings that a regular stripper won't remove. 
A PERFECT BOOSTER FOR: 
Wood Strippers when removing water based stains like Behr, Olympic or Superdeck

MIXING INSTRUCTIONS:
Add Butyl Boost to your already made wood stripper.  Use up to 10% Butyl Boost in your stripper or 1/2 gallon Butyl Booster per five gallon stripper mix.
ADDITIONAL INSTRUCTIONS:
Strippers must be kept wet or they will not work, a light mist every few minutes will do.
Test on a small, inconspicuous area of the wood to ensure proper wood care.
Always wet plants, shrubs, and other surrounding vegetation before and after use.
Always brighten the wood after using a wood stripper using

 

Stain & Seal Wood Brightener
WARNING:
Extreme caution should be taken when using strippers. They will burn skin, remove paint from houses, and kill plants, grass and pets.  
Keep out of reach of children.
Exposure to Butyl Cellosolve could cause irritation to the eyes, skin, or lungs. If contact occurs, rinse immediately with water for 15 minutes. If irritation continues, seek immediate medical attention.
Do not ingest.
Always wear personal protective equipment when using this product.
DO NOT MIX WITH OTHER CHEMICALS.